Our mission is to be instrumental in creating successful Veteran-Owned Businesses throughout the state of Idaho while creating a strong network of resources committed to their success.
Become a Recruit
Idaho Veteran-Owned Business is a business networking group connected to the Warrior Project. ID VOB is designed for veterans interested in starting a business by providing educational workshops that teach interested veterans the steps necessary to start and operate their own business. These educational experiences are further enhanced through the involvement of current and past veteran-owned business entrepreneurs, who have already breached that wall and are capable of providing leadership and intel to those interested recruits.
Become a Sponsor
Becoming a sponsor is one of the most important aspects of ID VOB. Businesses and/or individuals can contribute the tax-deductible donations needed to launch these workshops throughout the state. Donations provide a critical mission to those veterans interested while expand the Idaho network of veteran-owned businesses. ID VOB donors and sponsors will receive idvetbiz.org POS to display their support from their websites, in their businesses, on their cars, etc. as a public acknowledgement of their vested interest in Idaho's Warriors.
ID VOB is working toward expanding the veteran community, providing education through our workshops, having fun and improving the economic outlook for VOBs in Idaho.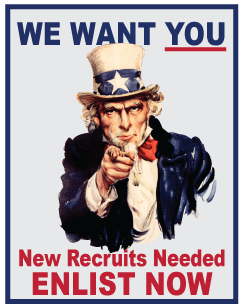 Ways to Enlist!
Recruit*: -Sign up here to learn the ropes for starting your own business. Workshop information in your area to follow.
Leadership*: -Those of you who are currently or have in the past run a veteran-owned business, sign up here to teach the grunts how it's done through a series of FAQs you can contribute responses to imparting your wisdom.
Sponsorship: -Sign up here to show your support for veteran-owned businesses! Pick your sponsorship level and earn a window decal for your business to show your support for America's Warriors. Note: While it is not necessary to be a veteran for this level, our hope is that many of our sponsors are VOBs themselves.
*Veterans only, DD-214 required for membership. (Please review the sample DD-214 to see which areas to black out before submission.)