What We Do
---
The Warrior Project provides leadership and tasks necessary to help launch and run a successful business enterprise through a workshop covering several critical subjects, including:
---
Writing a solid business plan (Your Battle Plan)
Improvise, adapt and overcome (Marketing Strategies)
Creating a Code of Conduct for you and your staff
Understanding your AO (Area of Operation)
Maintaining an accounting system (Tracking the Bombs and Bullets)
Avoiding ambushes/SNAFUs/FUBARs
We provide the initial intel to build and execute your mission plan.
There is also a reading program modeled after similar programs established by all of the military branches which is updated and expanded each year to keep vets inspired to advance skill-set knowledge required to move the mission forward.
The Warrior Project actively seeks military vets already running successful businesses to step into the mentor phase, sharing problems overcome and successes enjoyed with new vetrepreneurs. We also seek banks and financial organizations willing to review and critique business plans, possibly providing funding sources for these missions.
---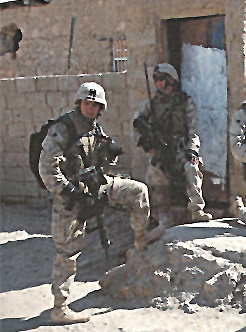 Workshops
---
We provide workshops for veterans that teach every step of the process for starting a business as well as helping veterans decide if they have "the right stuff" to be an entrepreneur.
The workbook for the class is written in recognizable military lingo, with some military humor thrown in, and stresses the parallels between your military training and the entrepreneurial path. You will be amazed at how much you already know about the mission of starting a business!
The workshop also provides continued leadership by introducing the many programs and personal assistance available to veterans exploring this path and has representatives of some of these organizations at the workshops to further lay out what they offer to veterans.
The workshop attendees become battle buddies as veterans navigate the mission together. It's the same "man on your left, man on your right" concept instilled in your military training that is so critical to successful combat missions. An extended battle buddy program is built by a mentor network of current veteran-owned businesses and veteran organizations established by volunteers in your local community to help explore tactical considerations and provide ongoing leadership if needed.
Not only do we lay out the path, we also discuss ambushes/SNAFUs/FUBARs to be aware of and how to "adapt and overcome."
At the end of the workshop, you will have all the intel required to proceed with the mission.
My time at West Point and as an officer in the U.S. Army prepared me for difficult missions with constantly-shifting parameters, which perfectly describes the "day-in-the-life-of" any startup founder. Founded 2015 in Scottsdale, AZ, 10 employees

As a startup, moving fast and getting to your next milestone is crucial - the Marine Corps installed in me a sense of mission, where accomplishing the mission is paramount. Founded 2014 in NYC, 12 employees